The History
Welcome to the Gracedale Hills Estate website.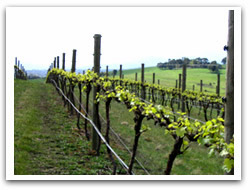 The Vineyard was established in 1996 by Dr. Richard Gutch OAM and Verna Gutch and family on their property Hill Paddock situated on the Yarra River, ten kilometres from the township of Healesville in the Yarra Valley region of Victoria, Australia.
In 2005-2006 a purpose built winery with modern gravity fed utilities and complete with an underground barrel hall was constructed on the property.
Richard Gutch was a long-time member of the "House of Lords" club at Jimmy Watson`s restaurant and with a lifelong interest in wine, it was inevitable that Richard would become a Vigneron.
Sadly both Richard and Verna have passed away and the Estate is now being managed by their daughter penny Hull and her husband Chris.
The winery facility is called "Hill Paddock Winery" and is now used by our winemaker Mac Forbes to produce all of the Gracedale Hills "Hill Paddock" label wines. Hill Paddock produces Shiraz, Chardonnay & Rose`.